GREAT DECISIONS | COLORADO SPRINGS WORLD AFFAIRS COUNCIL
GREAT DECISIONS DISCUSSION GROUP
Join the Colorado Springs World Affairs Council's Great Decisions Discussion Group!
Great Decisions is America's largest discussion program on world affairs. The program model involves reading the Great Decisions Briefing Book prior to the meeting, watching a brief DVD at the start of each meeting, and engaging in a Discussion Group to collectively analyze the most critical global issues facing America today.
The group will meet virtually, in eight sessions between January – May 2022, and the discussion will be led by Craig Larimer. All meetings will be held from 11:30 AM to 1 PM.
There is no charge, but participants must purchase a Briefing Book and must have a current membership with the Colorado Springs World Affairs Council.
Because Great Decisions is a World Affairs Councils of America Flagship program, the Foreign Policy Association will offer the booklet at a discounted rate of $31. For more information or to register for Great Decisions, please call our office at (719) 579-8443 or email info@csworldaffairs.org.
Great Decisions 2022 Topics and Meeting Times: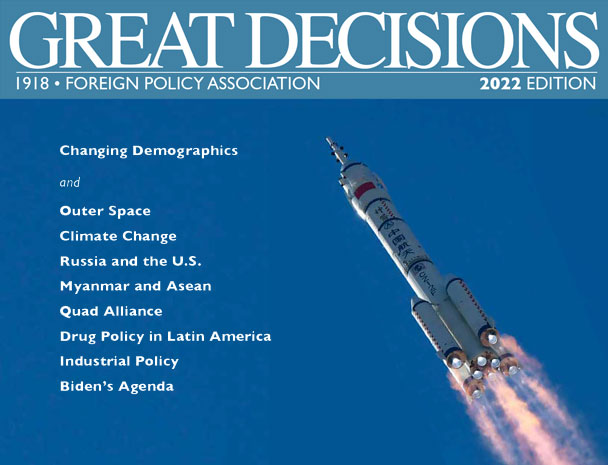 Great Decisions 2022 will cover Outer Space, Climate Change, Russia and the U.S. Myanmar and Asean, Quad Alliance, Drug Policy in Latin America, Industrial Policy, and Biden's Agenda.
Meetings will be held on January 20, February 3 & 17, March 3 & 17, April 7 & 12, May 5 & 19 from 11:30 AM - 1:00 PM.