2 minutes reading time
(469 words)
In Global Ties U.S. News - Promoting Social Change through the Arts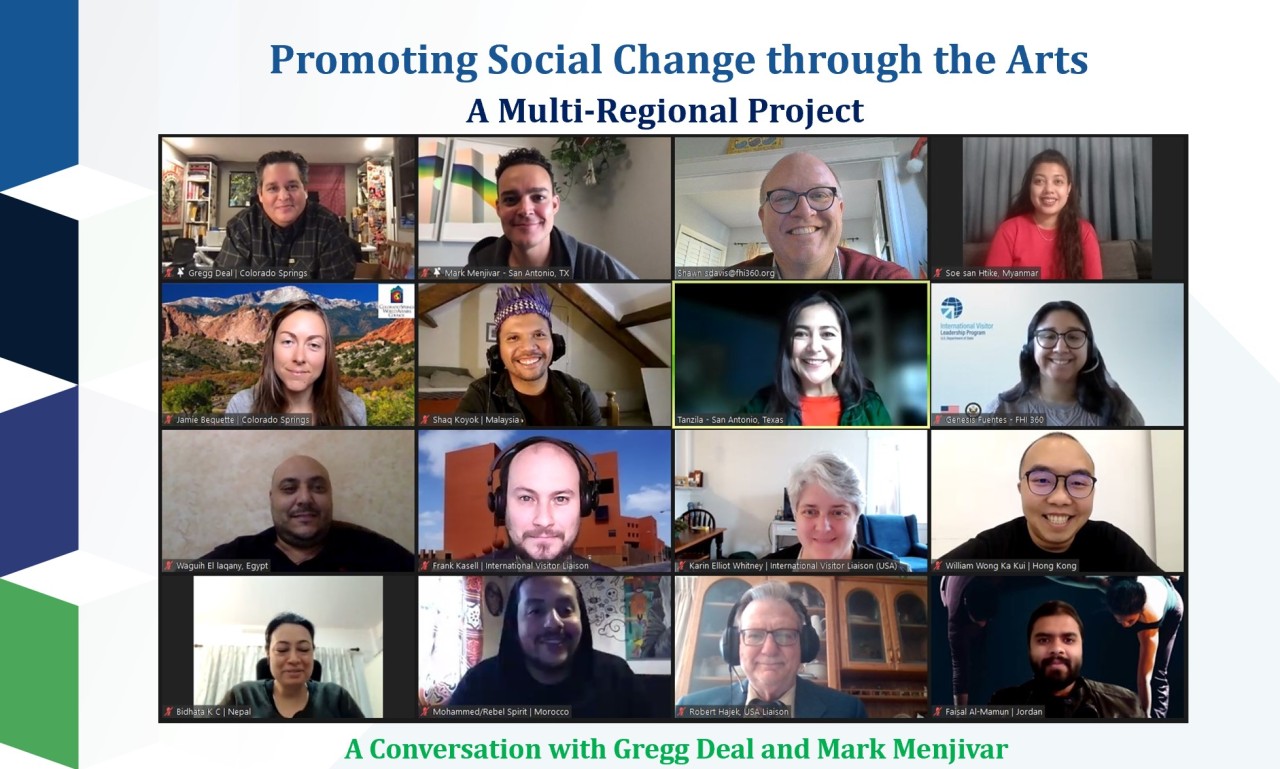 Each month, Global Ties U.S. invites the International Visitor Leadership Program network to submit an article for their blog #ExchangeMatters. This month, we were featured with some of our fellow peers. Below is the article. Check out other stories here and here.
"Promoting Social Change through the Arts" was a 2021 International Visitor Leadership Program (IVLP) project coordinated with FHI360, and a highlight for the Colorado Springs World Affairs Council (CSWAC). For this project, we hosted two professional meetings. The first included two Colorado Springs organizations, Youth Documentary Academy (YDA) and Poetry719.
YDA is a nonprofit that teaches high school youth the art of filmmaking. Through film, students' voices bellow, no longer hushed by adults or seen as inexperienced in the world. Film allows their stories to be heard, consequently creating awareness of complicated subjects such as colorism, discrimination based on hair texture, military trauma and PTSD, and bipolar disorder, among others.
Poetry719 is a grassroots organization created to provide safe space for BIPOC and queer communities for spoken word expression. During the meeting, co-organizer Ashley Cornelius confirmed that using the art of poetry to voice inequities or speak on "heavy" topics has proven to be a more effective way to shed light on disparities in various populations — people are more open to listen to difficult issues through expression of art rather than just having a conversation.
The second arranged professional meeting was co-hosted with San Antonio Council for International Visitors (SACIV). CSWAC and SACIV brought together local artists Gregg Deal and Mark Menjivar to share how they use performance and visual art to create awareness and — exactly as the project title reads — promote social change. Gregg spoke extensively on his murals and paintings, which expose Indigenous people's truths, challenge Western perceptions of Indigenous people, and touch on issues of race, history, and stereotype. Mark talked about his art installations, and how his work created dialogue and action around capital punishment in Texas.
Shawn Davis, a FHI360 Program Officer, uniquely formatted each meeting so that every delegate had the opportunity to share their own art before the professional meeting began — storytelling, poetry, painting, music, and more. He arranged these presentations to match the artistic forms of the U.S. counterparts. Shawn's innovative formatting created a space that felt like we were back to in-person programming and felt like a true exchange, where both sides had adequate time to share and learn. It was an absolute delight to experience each participant's artistic gifts. I was awe-inspired!
Art, in one form or another, is enjoyed by everyone. Art has the power to shape minds, shape policy, and shape society. We need art in our lives. It was an honor to connect global changemakers with our local art-activists and to learn how art has the power to shape the world.
Stay Informed
When you subscribe to the blog, we will send you an e-mail when there are new updates on the site so you wouldn't miss them.
Comments
No comments made yet. Be the first to submit a comment