6 minutes reading time
(1158 words)
Fostering Collaboration and Connection: CSWAC Hosts WACA Leadership Conference.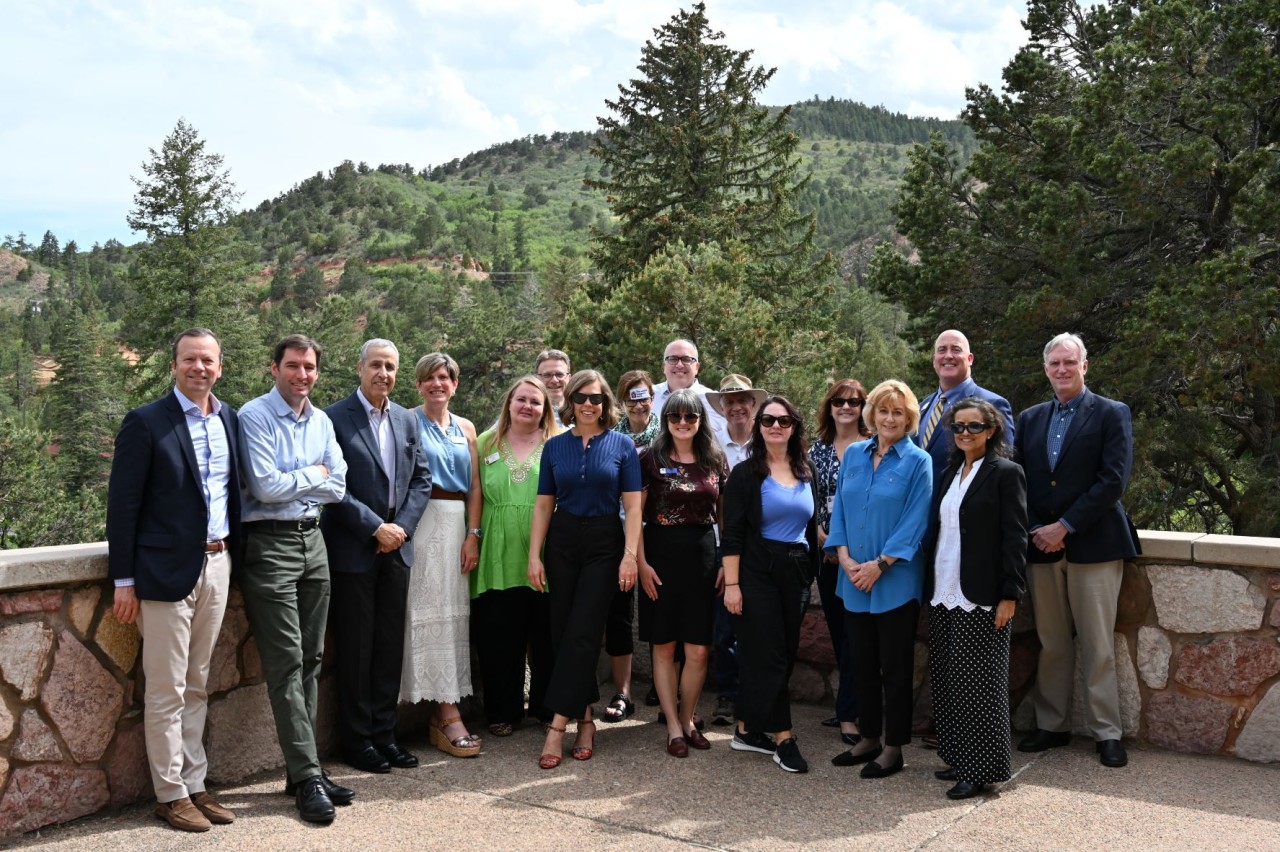 After a two-year postponement due to the COVID-19 pandemic, the 2022 World Affairs Councils of America's Spring Leadership retreat was finally hosted by the Colorado Springs World Affairs Council on June 9-11. During their brief stay in Colorado Springs, 30 national leaders of World Affairs Councils from across the nation met face to face after two years to collectively deep dive into leadership best practices.
To kick off the conference, national leaders and CSWAC Premium supporters enjoyed an evening privately touring the United States Olympic and Paralympic Museum, home to the compelling stories, artifacts, and media of America's greatest athletes.

Following the tour and a warm welcome from CSWAC Executive Director Tracey Johnson, State Representative Terri Carver presented the Colorado state flag to WACA Board of Directors Chairman Glenn Creamer in front of the "Miracle on Ice" scoreboard. The historic scoreboard is frozen in the very moment in time that the United States hockey team secured victory against the Soviet Union on February 22 during the 1980 Winter Olympics.
United States Air Force, Lieutenant General (ret) Christopher Miller shared a fascinating presentation on the Change and Challenge in World Affairs.
On June 10, Tom Strand, Colorado Springs City Council President opened the day by sharing about the history of Colorado Springs. The first session of the day featured CSWAC Emeritus Board Member and former Executive Director Karen Burghart, Development Director at The Pioneers Museum Diane Stine, and Executive Director of WorldDenver John Krieger to discuss the Future of Membership and what it means for member-based organizations.
The second session, Planned Giving and Donor Advised Funds, was led by Pikes Peak Community Foundation's Vice President of Philanthropy, David Dahlin. Dahlin lead the group through a holistic approach to expanding and diversifying development outreach.
As the group enjoyed lunch, Better Business Bureau of Southern Colorado Board Member and small business owner Ramon Alvarez presented on the importance of diversity in organizations and their leadership by sharing his first-hand experiences as a business owner and first-generation immigrant.
Education is central to the mission of the World Affairs Councils of America – high school programming is one of the main ways this mission is fulfilled. For the third session, educators, and board members from El Paso County School Districts engaged in a panel discussion about the importance of Real-World Learning (an approach to learning that involves schools working with community partners and industry experts to engage students in authentic, relevant problems, projects, and experiences that develop career awareness and readiness) and how councils can best partner with schools today.
The benefit of being a network of councils that make up the World Affairs Councils of America is collaboration and dialogue between councils. To close the day, Megan Torrey, CEO of the World Affairs Council of Connecticut, opened a space to have a "round table" discussion, where she invited councils to share their experiences over the last two years navigating a post-pandemic world. These leaders asked questions, empathized with fellow colleagues over hardships associated with resources and funding, and shared new initiatives and ideas.
"I loved the WACA/CSWAC Spring Leadership Meeting! The programming, the discussions, and the nature all reenergized and imbued me with a renewed sense of purpose and mission… I loved the sessions on the future of membership, and also the last WAC leader-led session on post-pandemic programming. The first gave me great new ways to think about membership and unique methods to implement, and the second was helpful because we spoke as a group of WAC leaders, and I was able to fully understand where our sibling Councils are regarding their current programming. I also really appreciated the speaker David Dahlin about happiness, meditation, and finding Zen and why it's essential we find our own peace in order to be productive and excellent leaders."

Liz Brailsford, World Affairs Council of Dallas/Fort Worth, President & CEO
"One of the things that's always neat about the spring leadership is that the meeting is very focused on council leaders and council staff… I think it is most valuable to have these smaller, best practices, and professional development discussions in a supportive, candid, non-judgmental, collaborative manner. I've seen for myself, but I think that a lot of our colleagues would also say that is always really a highlight of these types of events."

Derrick Olsen President of WorldOregon and WACA Board of Directors Member
"My favorite aspect of the conference was how collaborative and respectful and passionate we all were. Some of us were meeting each other for the first time, and others had known each other prior, but everyone was so welcoming and open and like we were really interested in learning about each other and what we were doing… I want to thank all [CSWAC STAFF], for all of the hard work you put into planning this. I know how challenging it can be, so I have a lot of respect and appreciation for you guys, and I will not forget this. So, thank you, thank you, thank you!"

Naseem Qader WACA Board of Directors Member
Stay Informed
When you subscribe to the blog, we will send you an e-mail when there are new updates on the site so you wouldn't miss them.
Comments
No comments made yet. Be the first to submit a comment